Industrial Dust Collection and Scrubber Systems
Custom Design, Fabrication, and Installation for Industrial Dust Collection Solutions
Clean Air For A Safer Workplace
Industrial Dust Collection Systems that will clear the air and also improve the efficiency of the employees.
Green Earth engineers specialize in custom design of the perfect industrial dust collection solutions, tailored to your plant's needs. Green earth supplies reverse pulse cleaning, or "shaker" bag house dust collectors, well suited for many applications. Choosing your dust collector is based on the needs of the facility, and Green Earth will use key features to maximize collection efficiency. Modular design means we can customize your dust collection solution to the space available, while explosion venting and available sprinkler systems provide safety and security. Filter bags are available in a wide selection of fabrics, chosen specifically for your application.
An air pollution control scrubber custom designed and engineered by Green Earth ensures your plant meets and exceeds EPA air quality regulations. The engineers at Green Earth will analyze your plant's output and create a unique solution specifically tailored to your needs. Air scrubbers can be fully integrated into other regenerative thermal oxidizer and energy recovery systems, providing a total single-source turnkey solution for all of your facility's environmental control needs.
Air Pollution Control Solutions in Action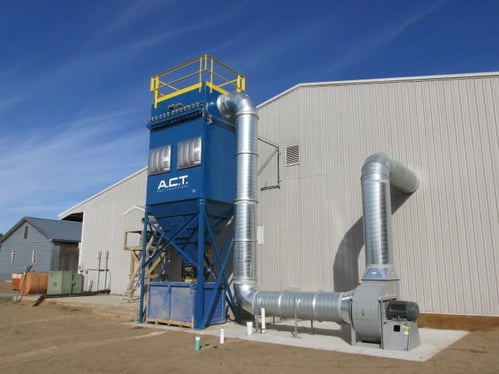 Green Earth Inc. boasts an abundance of successful air pollution control & industrial dust collection solutions. A fume scrubbing system installed in one heat treatment facility replaced an old, overburdened dust collection system, creating a safer, healthier environment for employees while reducing the downtime and improving plant efficiency. A bed scrubber integrated within a regenerative thermal oxidizer at one chemical Facility destroys 99% of hydrobromic acid gas created when brominated hydrocarbons are oxidized. The bed scrubber self-monitors pH balance of the scrubbing solution, ensuring the scrubber is running at peak efficiency.
Trust Green Earth from concept through implementation of your plant's industrial dust collection system, either alone or as part of a fully integrated, turnkey environmental control system.
Dust Collection Applications
Blasting
Food Processing
Laser/Plasma Cutting
Metal Working
Industrial Environments
Plastics
Pharmaceutical
Thermal Spray
Wood Working
Recycling & Scrap
Weld Smoke & Fumes